Before the global coronavirus boom in 2020, education was supposed to be one of the more traditional industries with minimal technological developments. But along came COVID-19 which not only changed the face of education, but also brought about advancements and digitization that had not been anticipated before. 
Concepts like Virtual Classrooms, Artificial Intelligence and Augmented Reality– which seemed like distant dreams just yesterday started getting adopted as part of the curriculum and general learning strategies. In short, it would not be wrong to say that Covid-19 jump started the digital revolution of the education sector which followed in 2021. Here are a few e-learning stats from 2021-

Since 2020, 98% of universities have shifted to online classrooms.

Almost half (49%) of remote learners anticipated enrolling in online courses after their campuses return to normal operations.

96% of administrators said that faculty development is a top priority in the coming year.

Overall, a majority (74%) of students thought that online learning was better than or equal to on-campus learning; 64% of rem

o

te learners felt this way, too.
Having said that, let's see what are the hottest edtech trends from the bygone year? 
And what is around the corner? 
Read on below.
Tech Enabled Immersive Learning

One of the biggest and the most notable edtech trends that saw a noticeable rise in 2021 is the rise of the Immersive learning and Extended Reality (XR) which is an umbrella term for Augmented Reality (AR), Virtual Reality (VR) and the combination of related technology.
These technologies play a pivotal role in edtech because they enhance the visual learning process. AR helps in depicting 3D forms of animals, objects, lab experiments and more. Interactive VR technology can be used in laboratories for an immersive experience, especially by STEM students.


Extended Reality Devices Stats

Another example of immersive learning is Google Expeditions that let's students take field trips and the like. In addition to that, an unrelated type is 'Makerspaces' which are physical spaces in schools, community centres or public spaces which let pupils come together and build things by hand.


K12 Homeschooling Startups

Between 2017 and 2021, daily searches for homeschooling in the US have increased by 25%. So much so, that currently 3.4% of all America's school going children are being homeschooled. The practice especially boomed after the pandemic when offline learning became a challenge and more and more parents started resorting to homeschooling for their children.

As per the Homeschooling Capstone Report EdChoice, 70% of the respondents for the homeschooling survey confirmed that they had either begun or considered to start homeschooling during the pandemic. 47% of these respondent plan to continue homeschooling even after schools return to full in-person learning by the end of 2021-2022.


Homeschooling Data (Source)

All this data led to the way of edtech startups which stepped up to fill in the gap between the educators and the educatees. One of the best examples of these startups is Prisma– that grew leaps and bounds in the last year. Prisma offers a combination of in-person and live tutoring online learning experience, aside from other features.

Another interesting example of the same could be Outschool, which matches students and teachers in small coordinated groups for live teaching. Yet another brilliant example is Primer which  works in a slightly different fashion- it helps parents homeschool their kids by providing the essential tools, content and curated educational resources.


Massive Transition to E-Learning

This brings us to the biggest and the hottest edtech trend of 2021, which is E-Learning. While elearning trend started in 2020, it's full potential was unleashed in 2021 when a plethora of advantages and benefits started surfacing over time-

E-learning is extremely scalable as it allows the best educators to reach more students at the same time at a comparatively lesser cost than traditional classroom teaching.
According to the Research Institute of America, eLearning increases retention rates by 25 to 60 percent.

As a result of this, several tools came into being to facilitate e-learning which include Zoom, Google Meet, Microsoft Teams and more. Additionally, many institutions and universities came up with different and newer online courses which students could partake in. Not just this, elearning startups like Coursera and Udemy stepped in which partnered with esteemed universities to make a host of courses available to students worldwide. Now that this practice has been received with open arms and has been adopted efficiently globally, researchers predict that most of these institutions will stick to online methods of teaching post pandemic as well.

Coursera's search volume has increased by nearly 35% over the last 5 years.
Coursera's search volume has increased by nearly 35% over the last 5 years. (Source)According to a survey of IT leaders in the U.S. educational system, only 7% expect their school districts to return to pre-pandemic onsite teaching this fall. Having stated that, it wouldn't come as a surprise when we tell you that this industry is expected to exceed $1 trillion by 2027. 
Other leading players in this space are CourseHero, Chegg, Thinkific, Teachable, Lessonly etc.

Transformation in EdTech Funding- How is It Paving Way for Remodelling the Industry?
Edtech Venture Capitals which stood at $500M at the beginning of 2010 experienced a massive growth which was 14x times higher and reached $7B in 2019. With that rate of accelerated investments, it was further predicted that the industry is going to reach $87B over the next 10 year beginning 2020. However, that forecast seems easily defyable when $26B of Venture Capital was already deployed before the end of 2021. With momentum that intense, it will be safe to say that we will exhaust the remaining VC predictions and could easily cross over $150B this decade. Here are a few stats-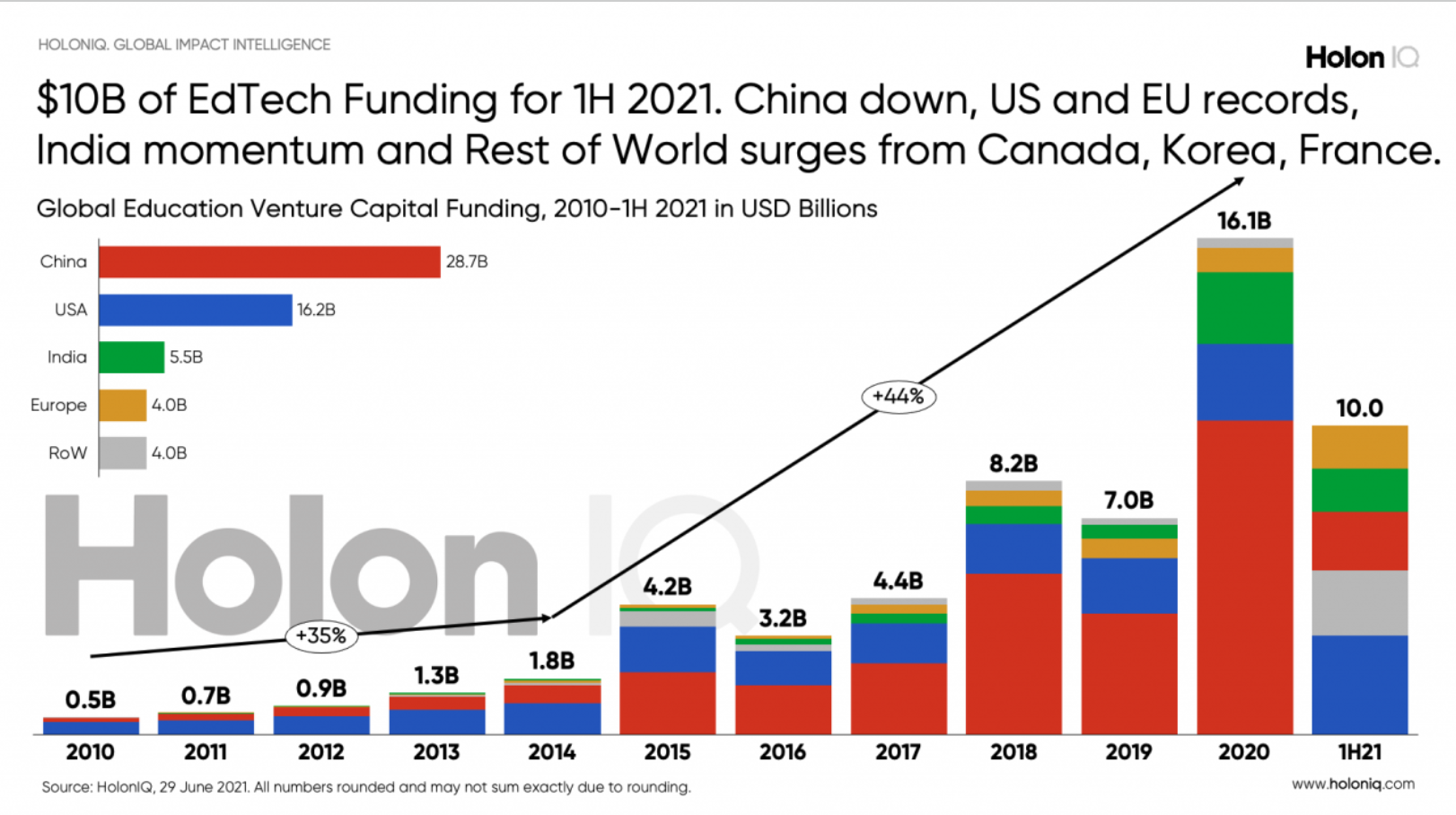 To infer, we would only like to point out that with an acceleration that high, there is no looking back. The rise in the EdTech funding will eventually lead to an upsurge and boom of the corporate e-learning companies, homeschools and will also demand a modification in the learning strategies of traditional school and institutions. Not just this, under the light of this revelation, it will be safe to say that there will be a monstrous rise in academic content requirements- at all levels. 
Are You Ready for the Next Steps? 
Taken together, these are not just a few trends from the e-learning space but also a leeway into the new year 2022 and an introductory picture on what can be expected and what is incoming. What these also show is the way education and technology are coming together faster than expected with the pandemic accelerating the process. Whether you are a school institution or a university, corporate e-learning company or an edtech startup, we will all need to upend and constantly modify our ways of teaching and learning in order to stay ahead of the curve. 
To sum up, you can see that the impact of technology on education is massive, and is only likely to grow even further. Knowing the market edtech trends and adopting new technologies and methodologies is a must, especially at the brink of a new year. If you're ready to get the ball rolling, Evelyn is ready to help you develop up-to-date solutions for the educational industry. You can get in touch with our content educationists today for more information. 
Evelyn Learning
Create. Engage. Inspire.