Online tutoring refers to the technique of delivering lessons via the internet. It is widely preferred by students as well as parents as learning through an online class is much more convenient than having to travel to attend a class, carrying along all the required material. Online tutoring serves as the best mode of learning as it transcends the barriers of time and space and increases the accessibility of learning. 
More learners are opting for online classes and an equal number of people are willing to work as online tutors. However, one needs to consider all the aspects of online tutoring before indulging in it. Refer to this step-by-step guide for getting started with online tutoring, along with some tools/software to effectively manage your online tutoring classes.
Step-by-Step Guide to Online Tutoring
Online tutoring can be a beneficial part-time job and a lucrative business for the ones willing to devote themselves to it. Here is a step-by-step guide to start with online tutoring.
1. Determine your Requirements
Identify the niche, target audience, skills, and experience needed to begin with a class.
2. Identify the Audience
Perform market research to identify the audience based on various characteristics for designing a program that caters to varied learning requirements.
3. Choose a Discipline
Choose a topic of your interest or an area of expertise in which you can provide classes. Furthermore, you can turn a hobby into a profession with online tutoring.  
4. Select a Course Pattern/Model
Determine whether you want to offer video courses or written format courses. Also, choose the format of the course as per your convenience and the time you wish to devote to online tutoring.
5. Get the Required Hardware
A computer, fast internet connection, webcam, and microphone comprise the basic hardware requirements. High-quality equipment with excellent working conditions is best for conducting online classes. 
6. Download the Required Software
There are a lot of free softwares available on the Internet that offer video conferencing and screen sharing options. Apart from this, you may also require other software such as on-screen whiteboards for conducting tests, assessments, and other activities to engage learners.
7. Get an E-Payment Account
An e-payment gateway is a must to receive payment from the remote learners in your class. This provides the freedom to collect earnings from learners living far away.
8. Choose a Suitable Platform to Present
After you are done with the initial steps, it's time to choose a platform to present the course. Here, two options can be considered. Either sign up as a tutor on websites like Udemy and Skillshare or create a personalized eLearning platform by purchasing a domain name for your website.
9. Market your Course
The next step is to market the course. Various social media platforms are the best stages for creating an online presence and promoting a business.
10. Manage
The final step is the management of online tutoring classes. Good management of the course and timing along with proper conduct of assessments can fetch more learners and provide an excellent experience in the field.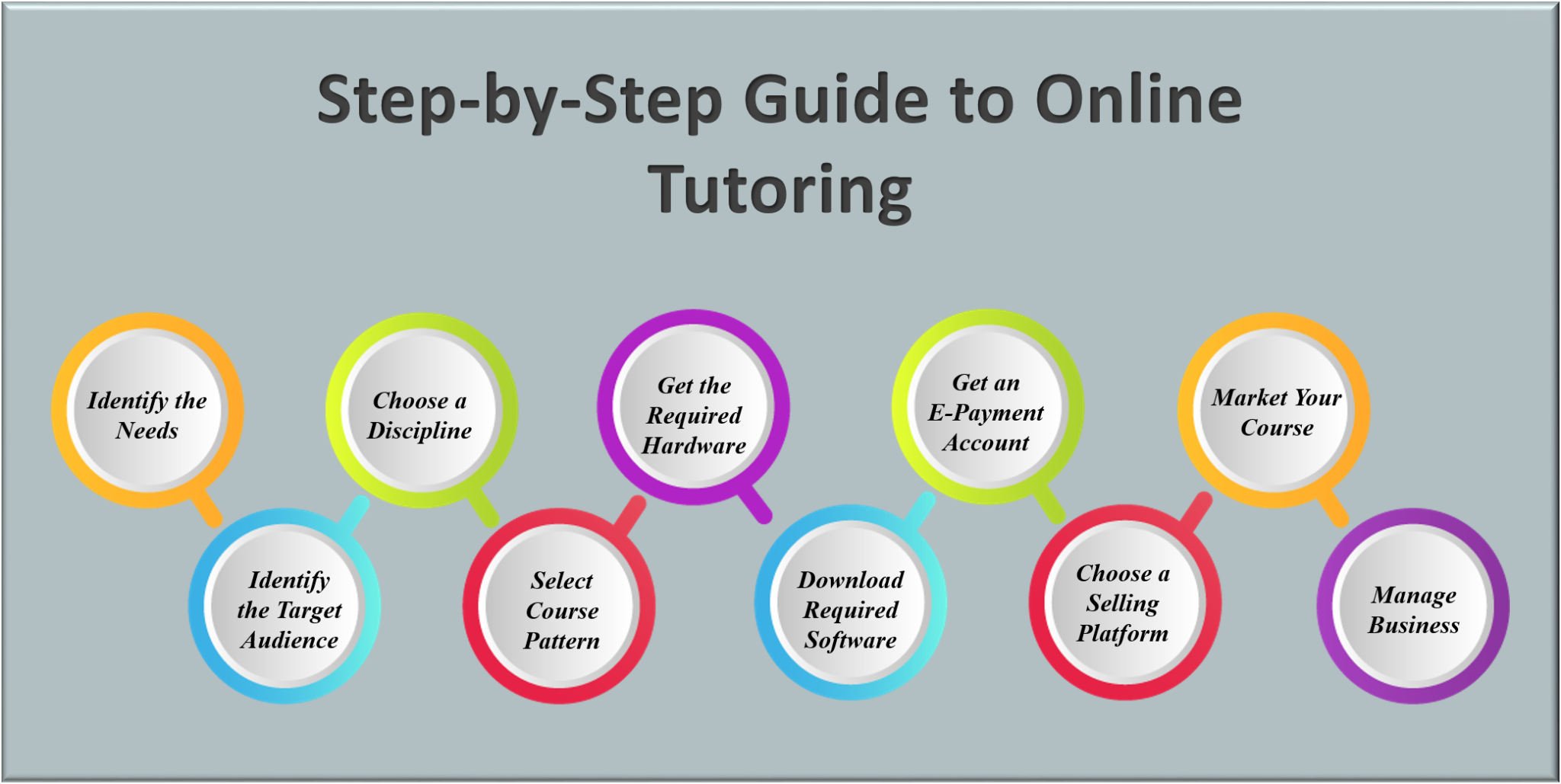 Essential Tools for Online Tutoring
The execution of the above-mentioned steps requires certain tools to allow online operations for conducting classes. These tools furnish the tutor's requirements of video conferencing by providing a real-time virtual class, creating and sharing content & resources, conducting assessment tests, keeping assessment records, and also maintaining contact with the parents/guardians of the learners.
Some software/websites offer an all-in-one solution for online tutors, eliminating the need to download separate software for various online tutoring needs. These tools are available on the Internet with either free access or a minimum paid subscription. Here are two of the best tutoring software providers:
This allows tutors to build a personalized tutoring website, create & share resources, design assessment tasks & feedback surveys, and store content for further use.
This is a cloud-based learning platform for conducting a real-time virtual class using YouTube videos as resources. It also offers screen sharing and recording along with a whiteboard facility.
Some other relevant tools that can be used to facilitate online tutoring are:
Other popular tools include Camtasia Recorder, Smooth Draw3, and Wacom Bamboo Tablet. These softwares are also used by Khan Academy, one of the most widely used teaching and learning platforms.
Recommendations
The tools and resources mentioned in this blog help set the foundation for an online tutoring business. However, it is recommended to look for alternatives before tirelessly doing everything personally. Some companies hire online tutors and also provide all the resources on a single platform by levying a sizable commission. Such platforms serve as better alternatives for boosting career plans by saving time and energy as this puts a lower strain on tutors while setting the foundation of a course.
Read more about online tutoring here.
Images: Shutterstock. and Freepik
Visit our blog for further reading on Online Tutoring.

Create. Engage. Inspire.