Information is to the brain what food is to the body. Bite-sized portions of food are easy to chew and digest. Similarly, bite-sized information is easy to process and retain, and Micro-Learning operates on this same strategy. We gave an insight into micro-learning, its advantages, and disadvantages in our previous blog on What is Micro-Learning? But is micro-learning effective? If yes, what are the best practices in micro-learning?
This article delves deeper into micro-learning and discerns how effective micro-learning is, and what are the best practices to follow while employing this method.

Is Micro-Learning Effective?
Learning outcomes not only depend on the method employed but also on the learner's concentration level. Modern learners have a comparatively small attention span compared to adults. Eventually, this raises a need to employ a strategy that does not strain the concentration level too much yet yields effective results. Micro-learning fits these constraints perfectly. Also, the use of entirely digital content eliminates the need for manual note-taking and engages learners without any distractions. Besides, the availability of content on various platforms, in the form of interactive videos, audios, games, and quizzes that are accessible through all devices, gives freedom to learn or revisit any module as and when required, making it easy for everyone to learn.
As a result, micro-learning is an effective method of learning for contemporary learners, and it is suitable for education as well as corporate training. However, it must be noted that this method is only applicable for teaching simple concepts as it provides crisp information that might confuse the learners while learning about broader concepts.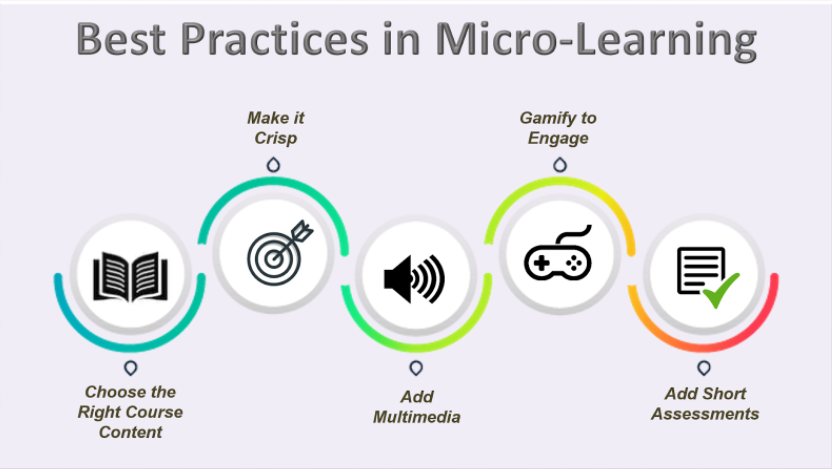 Some of the best practices to follow while designing a micro-learning module are:
1. Choose the Right Course Content
Broader concepts that require detailed study are often difficult to present as chunk-sized information. Therefore, one must choose a course content that is easy to present as it promotes quick learning and reduces the chances of causing confusion.
2. Make it Crisp
With a fast-paced lifestyle and distractions all around, no one wants to sit and learn for long hours. Therefore, a module must be as crisp as possible, such that it caters to the short attention span of modern learners and promotes quick learning.
3. Add Multimedia
Interactive multimedia boosts learner engagement. Therefore, the course must include multimedia in the form of images, audio, videos, etc. to make it interactive.
4. Gamify to Engage
Gamification is one of the best engagement strategies for any eLearning course. Using gamification puts learners in a game-like situation, which eventually develops interest and promotes better learning.
5. Add Short Assessments
Assessments measure the level of understanding of the course content. So, it is necessary to include assessment tests and quizzes at small intervals in an eLearning course. Micro-learning, as a form of eLearning, also requires the same.
Reference iSpring Solutions
Image credits: Maxpixel
For more information on teaching methodologies, visit our blog.

Create. Engage. Inspire