Video-based learning is a widely acknowledged method of education due to the various benefits it offers. Using videos for teaching and learning is more interesting than reading, the reason being that videos provide a bigger picture of concepts and ease their understanding. Moreover, the use of virtual reality videos helps bring the world into the classroom. As a result, it allows learners to experience different things virtually and in real-time. However, just like in-class learning styles, learners follow diverse e-learning styles (video learning styles in video-based learning). These styles vary according to the type of content that the videos present. Educators must keep in mind the motive of each lesson while creating a video-based course.
The reason video-based learning outshines any other method of teaching-learning is that it allows better learner engagement. It also stimulates faster and better understanding. To achieve these outcomes, educators must possess a sound knowledge of the various video learning styles. Here are some video learning styles that satisfy the learning needs of discrete learners.
Different Video Learning Styles
i) Contextual Videos
Contextual video learning style is a powerful way of introducing e-learning. It helps create a tech-friendly environment for learning that promotes learner participation. Also, learners gain autonomy to proceed further in learning at will with the help of videos.
Moreover, such videos are perfect for theoretical content. They help students learn faster and better by reducing text rigidity and making the information easier to consume. They make the introduction of new concepts easy and fun.
ii) Demonstrative Videos
Demonstrative video learning style follows the learning by doing approach. Such videos are useful for providing practical knowledge of a subject before learners try it on their own. This signifies that demonstrative videos help share a skill before learners acquire the relevant experience. The virtual environment brings forth the steps and risks of the activity. Consequently, learners get a virtual experience of performing an exercise in real-time.
Moreover, it prepares learners to practice precaution measures while performing the actual practical experiment.
iii) Explainer Videos
Explainer video learning style uses animation, slides, live videos, and other ways to explain concepts. Such videos explain complex concepts and inculcate in learners the necessary knowledge regarding those concepts. Moreover, this video learning style influences learning to a great extent with its usability and effectiveness in teaching and learning.
iv) Interactive Videos
The concept of interactive videos is comparatively new in video-based learning. Interactive videos are not only useful for learning but also for corporate training. They help address the multiple learning needs of various learners. Additionally, as the name suggests, interactive videos interact with learners in different ways to engage them. This interaction can be in the form of quizzes, demonstrations, or skill training.
Furthermore, the most fundamental benefit of this video learning style is that it enhances learner participation and promotes longer retention. In turn, it helps produce better learning results.
v) Illustrative Videos
Illustrative videos employ illustrations and graphics to bring clarity to concepts. In addition to this, illustrative examples help define topics and concepts, leading to a better understanding so that learners retain more. Educators can create such videos with simple illustrations, images, and graphics. As a result, they are extremely cost-effective. Additionally, illustrative videos are compatible with different devices and are lightweight. Their function is not limited by restricted internet bandwidth on a multitude of devices.
vi) Analogy Videos
Analogy video learning style helps develop cognitive shortcuts and references to solve real-life problems. Learners get to learn multiple concepts within the course without switching between topics. This makes it easier to relate one concept with another in a multidisciplinary environment. Also, learners can conclude learning with a cumulative analysis of the concepts. This learning style promotes holistic learning and longer retention.
vii) Learner-Generated Videos
Learner-Generated videos provide a stimulus for learner participation. Learners share videos through the Internet to showcase their knowledge. These videos work as a medium to transfer knowledge to other learners as well. Moreover, it promotes social learning and helps inculcate leadership qualities in learners.
Furthermore, such videos also ignite the interest of peer learners, cutting down the monotony of learning.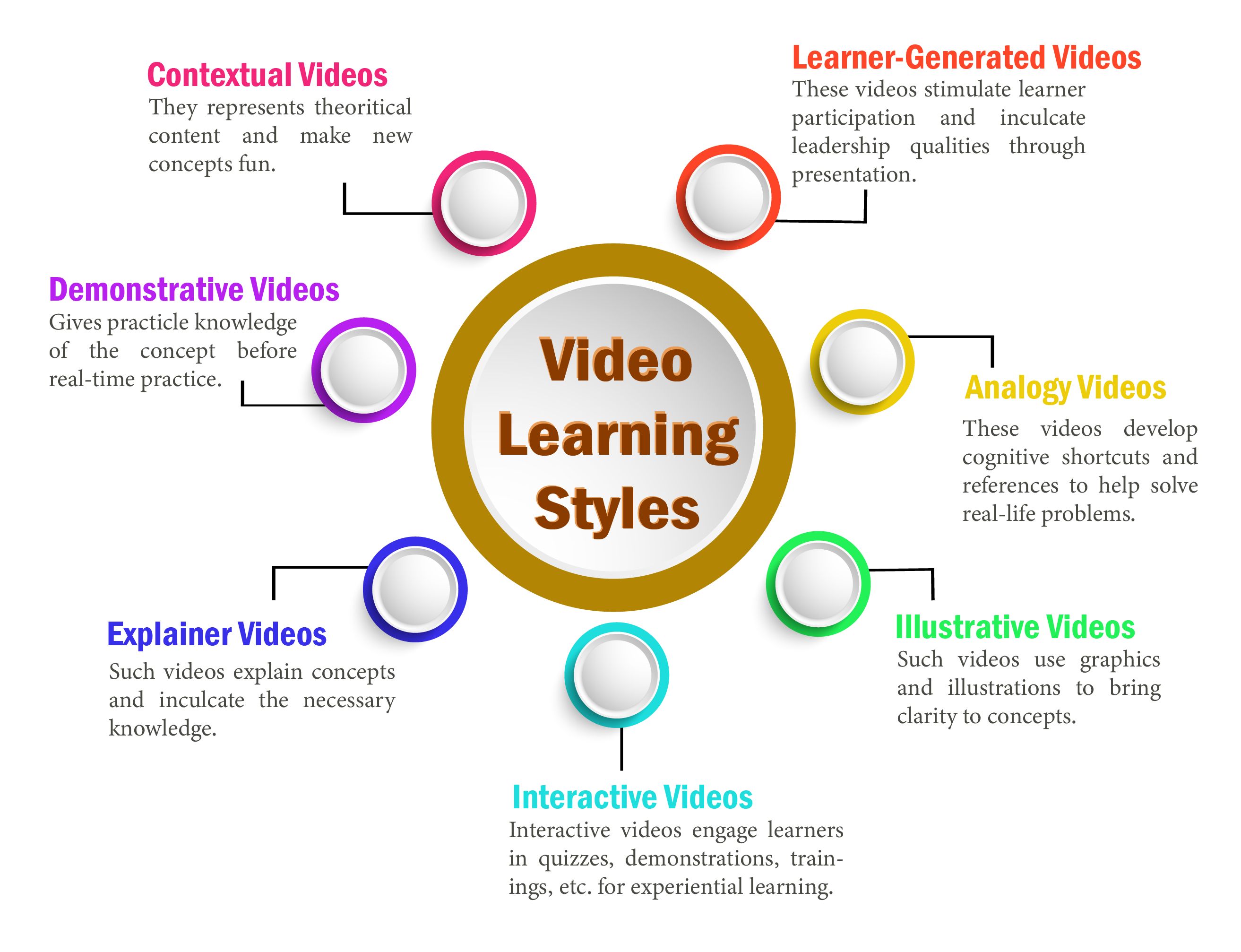 Video-based learning is a fun way to promote learning and enhance retention. It reduces cognitive stress and engages learners. There are a variety of areas where video learning proves to be the go-to method. And these areas extend to the workplace as well. However, educators must be familiar with various video learning styles to create effective video lessons/courses.
Research article: EdTechReview
Images: Shuterstock and Freepik
To explore more e-learning options, visit our blog.
Create. Engage. Inspire.