Our article on Formative vs Summative Assessment gives a brief introduction of the two most commonly used types of assessments and that on Top 7 Assessment Tools for Teachers talks about some some useful tools for teachers to create effective assessments. But conducting assessments requires much more than this.
There are a variety of formal and informal methods available to assess student progress. These methods include observation, discussions, group interactions, projects, questionnaires, assignments, and so on. Moreover, Project-Based Learning is one of the most effective instructional techniques and an accurate method of assessment.
Although teachers are free to make use of any technique they find suitable for the assessment of their learners, there are certain things of note while designing these assessments.
Some Tips for Creating Effective Assessments
1. Use Multiple Methods
A single method is not enough to provide a complete picture of the knowledge and skills acquired by the students. Thus, a teacher must use multiple methods to assess the students for their capabilities in different fields. 
Various activities such as projects, questionnaires, surveys, and others help in the assessment of different skills. These activities are conducted in the form of either formative or summative assessment.
(Refer to our blog on Formative vs Summative Assessments for more information.)
2. Specify the Objectives
Learning aims to inculcate a certain type of skill. Any form of learning has some necessary objectives for acquiring the required skills and knowledge. Moreover, these objectives determine the efforts of the learners and their contribution to the learning process as they participate in various activities. Therefore, specifying the objectives at the beginning of an assessment test helps students identify the skills they must demonstrate. Also, it motivates them to perform better as they are aware of what they are doing. 
3. Stick to the Goals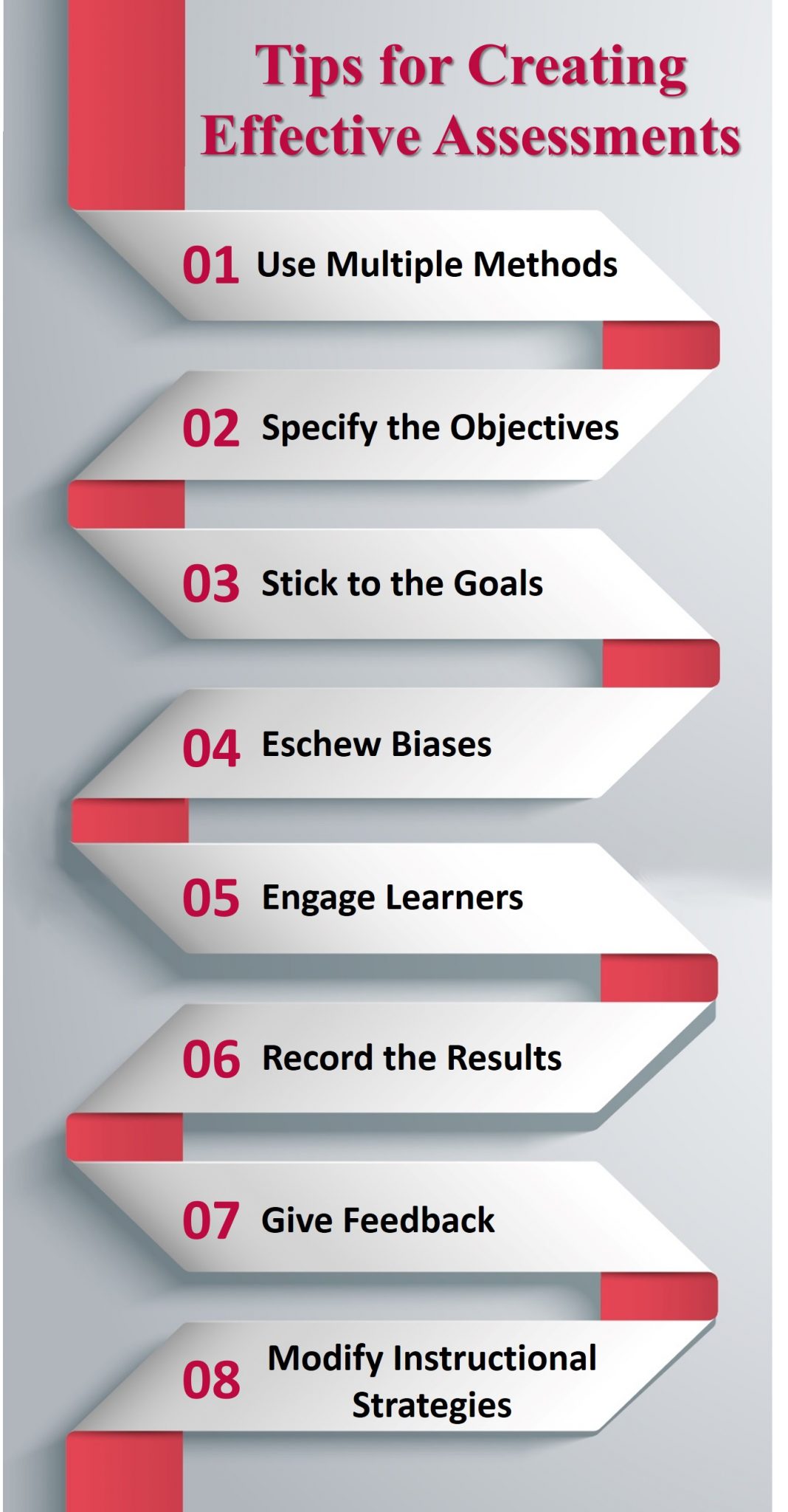 An assessment is nothing without a goal. Effective assessment activities are completely goal-oriented. Thus, teacher as well as students should be aware of the goals and objectives of learning and should stick to them.
Additionally, teachers must ensure that the activities that do not fulfill the goal requirements are avoided to avoid the sheer waste of time.   
4. Eschew Biases
Biases create hindrances in the process of development. They develop a sense of insecurity among the learners that often affects their performance. Therefore, teachers should work on creating a free and healthy environment where the students can display their abilities without the fear of judgment.
As a result, the students develop a sense of self-awareness and become progressive as they express themselves better. Moreover, unbiased assessments contribute to the development of their overall personality.
Additionally, the assessments that are not related to the skills/knowledge of the target group of students must be avoided.
5. Engage Learners
Learner engagement is a fundamental requirement for learning. The assessment of learning produces more accurate results when the learners actively participate in the classroom. Also, participation inculcates self-confidence in students as they learn to take initiative.
Moreover, the students learn many social skills as they collaborate with peers in group activities. Therefore, assessment activities involving more learner interaction and participation must be prioritized.
6. Record the Results
Keeping a record of the assessment results is important. It helps to assess the levels of improvement in the learners and also gives a clear picture of their potential.
Also, it helps the teachers identify areas where the learner requires assistance and practice. Accordingly, teachers can then design lessons and choose a teaching methodology that serves the purpose.
Moreover, students get to know where they stand, and a sense of healthy competition develops among them. This motivates the students to compete for better results.
7. Give Feedback
Feedback is what helps students to move further in learning. It gives them insights into their current performance and the areas they need to improve upon. Also, it helps teachers identify potential threats to learning and encourage the students to overcome their fears.
Moreover, feedback initiates an interaction between students and teachers. This creates a healthy classroom environment that leads to the development of communication skills. Also, the overall development of the students' personality takes place within the classroom.
8. Modify Instructional Strategies
Choosing the right instructional strategy determines the effectiveness of the assessment and the overall course. Thus, the teacher must give clear instructions and should not refrain from modifying the instructional strategy.
Incorporating Gamification in assessments is a strategy that works to engage students while they have fun developing their skills. Apart from this, Blended Learning and Flipped Classroom are two other effective instructional strategies to use.
Furthermore, experimenting with instructional strategies helps to cater to the individual learning needs of the students and renders better performance results in assessments.
Creating effective assessments can be challenging sometimes. The above-mentioned tips for creating effective assessments can help the teachers to fulfill the requirements of learning and assessment to give the students an enriching learning experience.
Research Articles: Getting Smart and Brave in the Attempt
Images: Shutterstock
For more information, visit Evelyn Learning blog.

Create. Engage. Inspire